Green Bean and Cherry Tomato Salad
Two of summers best ingredients come together to make one amazingly healthy salad. Enjoy as a side or add grilled shrimp or chicken and make it the star of the show!
Ingredients:
2 lbs of Green Beans
2 Pints (1 lb) of Cherry Tomatoes
2 Teasp0ns of Salt
1 Teaspoon of Pepper
2 Teaspoons of Lemon Zest (or lime for a bit more tang)
1/2 Cup of Olive Oil
1 Medium Shallot
1/4 cup Almonds
Feta Cheese (optional)
Take the ends off the Green Beans and steam them until slightly tender – but still crisp. Place in the fridge for 10 min to cool. In the meantime, cut the Cherry Tomatoes in half and mix them in a non-reactive bowl with the olive oil and diced shallot. Mix in the Green Beans when cool, and season with salt, pepper, and lemon zest. Finish with almonds and feta cheese for a boost of protein!
Summer Veggie Pasta Skillet
This amazing recipe from IowaGirlEats.com is fun and easy to make at the end of the week when you have a few veggies left over that you don't want to go to waste.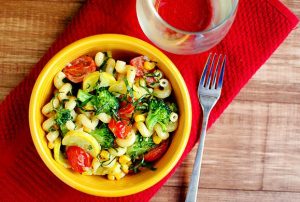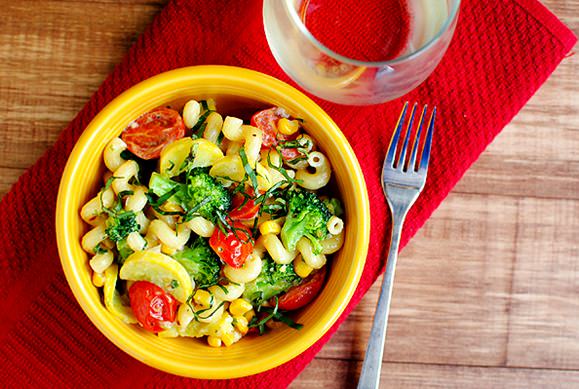 Ingredients:
4 oz uncooked short pasta like cellentani, penne, or macaroni
2 Tablespoons butter
1 Tablespoon olive oil
2 cloves garlic, minced
2 green onions, chopped
Salt and pepper to taste
Veggies: Broccoli florets, yellow squash, grape or cherry tomatoes, corn kernels, squash, brussel sprouts, red peppers, or anything else you have lying around.
1/4 cup Half and Half
2 Tablespoons parmesan cheese
1/4 cup basil cut in thin strips
Cook the pasta in boiling salted water until al dente. Drain and set aside. Heat butter and olive oil in a large skillet over medium heat. Add garlic, and green onions and saute until onions are softened. Turn the heat up to medium -high and add broccoli, squash, brussel sprouts, and peppers until crisp and tender. Add the tomatoes and corn and saute until heated through. Add half and half and parmesan cheese to the skillet and cook until slightly thickened. Add in cooked pasta and half the basil and toss to combine. Taste, adding salt and pepper if needed and served topped with remaining basil.
Seared Salmon With Avocado Salsa Verde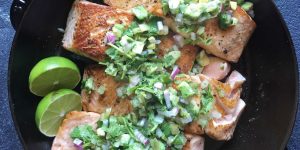 Salmon is super healthy for you and your baby. The natural occurring Omega 3's are great for brain and eye development for your baby and the healthy fats are great for your skin, hair, and nails. Couple that with the fact that this dish is cooked in a cast iron skillet (the iron will leach into the food and boost your iron levels), and this quick recipe from Delish.com is a true winner.
Ingredients:
15 oz. prepared salsa verde
1/4 Cup chopped cilantro
2 Tablespoons chopped red onion
2 Avocados, diced
4 Salmon pieces, about 2 lb
Extra-Virgin Olive Oil
Pinch of salt
Ground black pepper
2 Limes, cut in half
In a small mixing bowl, combine salsa verde, cilantro, red onion, and avocados . Mix together and set aside. Preheat a large cast iron skillet over medium-high heat. Meanwhile, pat the salmon dry and season with salt and pepper. Add 1 tablespoon of olive oil to the skillet and add the salmon skin down. Cook salmon 4-5 min on each side. Serve salmon with a large spoonful of avocado salsa verde and squeeze of lime.
Mango and Pineapple Smoothie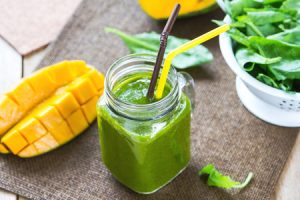 This smoothie features seeds , fresh fruit, and a daily serving of veggies, plus protein. Sometimes a cool drink on a hot day is all you need for dinner!
Ingredients:
2 Cups of greens (whatever you have leftover in your kitchen is fine; Kale, spinach, romaine, lettuce mix, etc)
2/3 Cup of Coconut Milk (or use a nut milk, but make sure to add a healthy fat like coconut oil, avocado, or nut butter)
1 Cup of Water
1 1/2 Cup frozen mango
1 1/2 Cup frozen pineapple
3 Scoops of vanilla protein powder (Whey is best) (or use nut butter or hemp seeds for protein)
3 Tablespoons of flax powder or chia seeds (you can grind flax seeds in a coffee grinder if you cannot find powder)
Blend coconut milk, water, and greens until smooth. Add frozen fruit and seeds and blend until smooth. Garnish however you like. I like to add a sprinkle of shredded coconut for extra flavor!
Teriyaki Chicken and Pineapple Yakitori
Ingredients:
6 Boneless / Skinless Chicken thighs cut into pieces
1/2 pineapple cut into pieces
3 green onions
salt and pepper to taste
Steamed white rice
Teriyaki
sesame seeds for garnish
Spear chicken / Onion / Pineapple unto spears and season with salt and pepper. Grill each spear until the chicken has just cooked, then coat with teriyaki sauce and grill for about a minute more. Place spears over white rice and sprinkle with sesame seeds and more teriyaki (if desired).