There are so many innovative gadgets and necessities coming out each and every year. Lancaster Doulas has dug up some of the coolest new baby gear on the market for you little bundle.
1. The Owlet
The owlet is a sock that tracks your baby's heart rate and breathing and reports directly to your smart phone giving you an alarm if there is cause for concern. Unlike an under the mattress monitor, the owlet can go with baby wherever baby sleeps. No more waking up at night terrified because your baby is sleeping "too soundly."
2. The Pod Crib
This cool and modern looking crib transforms and grows as your child grows. It is super sleek and stylish to boot!
3. The Baby Breeza Bottle Maker
The Baby Breeza is a  handy device like a Keurig for babies. It measures the formula and dispenses the correct amount at the best temperature. Just set if for your brand of formula and Ta-Da !
4. The Happy Mat
This innovative place mat will suction right onto your table or highchair. No more fidgeting toddlers tossing their bowls aside in a game of "how many times can I get mom to pick it up". They even make one for Fido ! Watch their video HERE
5. The Snug Spout by Boon
These silicone lids fit easily and snugly onto any cup or container turning it into a spill proof sippy cup. Genius !
6. The Bloom Fresco High Chair
This super urban and sleek chair will grow with your child. Transforming from a baby seat to a high chair to a toddler chair. This year's model comes in gold or rose gold ! Buy yours HERE
7. Blooming Bath
The Blooming Bath is an  adorable flower made of terrycloth that sits directly in your sink to make bath time easy, safe, and comfortable.
8. The UviCube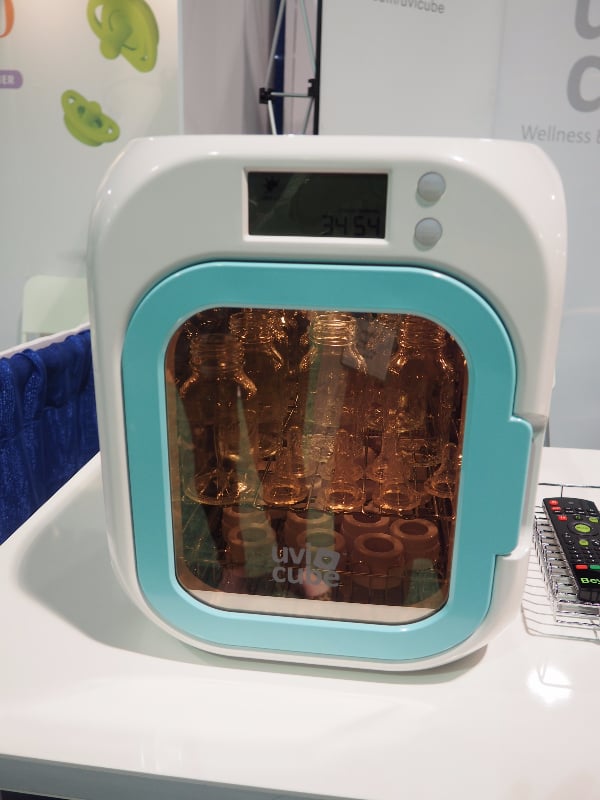 When you steam-sanitize baby bottles only to leave them to dry on your kitchen counter, bacteria inevitably finds its way back. UviCube, however, sanitizes with a UV cycle and a dry cycle so that everything you put in the box (which can include remote controls and even cell phones!) is dry and ready to use once the 45-minute process is up.
9. HatchBaby
The HatchBaby is the ultimate changing pad.  With its built in Wi-Fi scale you can chart baby's growth, determine how much breastmilk they drank, and log diaper changes. Use the free app to chart progress on your smart phone.
10. The Baby Shusher
The Baby Shusher is a white noise machine that mimics the sound in the womb. Its small and sleek design make it easy for on the go parents.