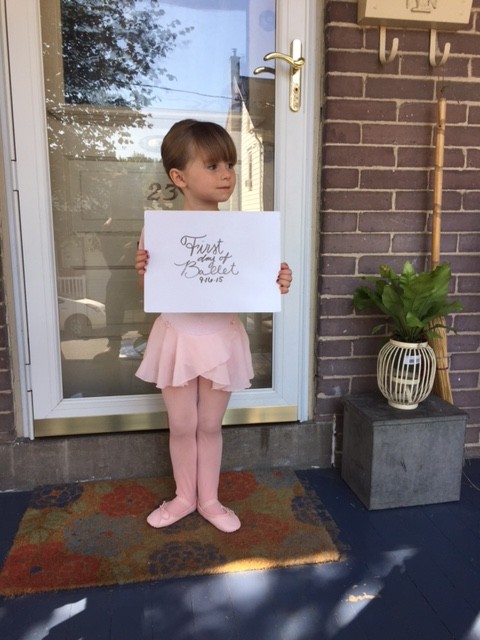 This morning I stood, sweaty, holding my sleeping toddler in the small front room of "Pas de Chet" while my 3.5 year old tried on her very first ballet dress. It took all of my self control to hold back emotion while peeking in the small curtain to catch a glimpse of my eldest. She smoothed the soft pink leotard against her belly while admiring her delicate skirt. A perfect rosette at the center of her collar completed the simple but elegant ensemble. A tiny version of her daddy, standing there from head to toe in pink with a sharp twinkle from under her heavy doe lashes. My first born. You are ready for what's next, whatever it may be. The world is yours for the taking.
It's in these moments when we can really reflect on the journey. It's not really about this first day. Maybe it's about yesterday being the last day, maybe we are just looking back and thinking about how we got to here. Maybe it's about how time stops for just a moment and we are truly present. Time stands still as we transition from one stage to the next (see what I did there?)
First days seem like they are coming at us a lot this September. Maybe it's just this season of life. Perhaps it's our queue to have a look deeper into ourselves and set an intention of growth. Personally I know that there are many ways I can grow, as a mother, as a wife and as a woman. I would never know how to move forward if it hasn't been  for what I've lived through already. So, every time I see someone post their first day pictures I'm going to remind myself that today is my day to begin on a new journey, to reflect on the past and move forward into a new direction, whatever that may be. The world is mine for the taking.
Written By: Dalanna Haldeman

Lancaster Doulas will support your first day in Adams, Berks, Chester, Cumberland, Dauphin, Lancaster, Lebanon, Montgomery, Schuykill and York Counties