Working with new families means I get to see all kind of beautiful babies. Our clients are always looking for the best way to preserve those earliest moments and Laurie Ressler is just what they need. I was able to tour her studio recently and get to know more about her and her beautiful family.
So Laurie, How Long Have You Been A Photographer?
I have been photographing newborns for five years now. My son Oliver was the first newborn I ever photographed. My main speciality is fine-art portraits of newborns and babies up through one year, but I also will photograph families during the warmer months of the year. I love when my clients come back to me months and years later for updated family photos of their little ones.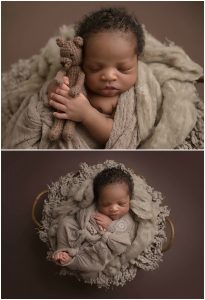 What Drew You To Be A Photographer?
My Kids! At the beginning, I had no intentions of starting a business. I enjoyed photography and wanted to have really good pictures of my kids so I bought a good camera and started practicing and learning. Pretty soon friends started seeing my pictures on facebook and asking me to tkae pictures of their children. As my business grew over the years , I decided to specialize in newborns and babies. Newborns are my absolute favorite subjects to photograph.
How Would You Describe Your Photography Style?
My style is very classic and soft. I use a lot of natural, neutral colors in my sessions. I love collecting unique baskets, boxes, and bowls to use in my photography sessions, With newborns, I am able to be creative with wrapping techniques, textures, layers, and subtle pops of color, I use a combination of wraps, as well as bare skin. I do not use a lot of props in my session, except to accentuate the baby. I don't want anything in my images to detract from the beautiful simplicity of the baby itself. In 10 or 20 years from now, I want my clients to be able to look back at their images from LVR Portraits and not feel like they are "out of date".
So Did You Need Any Special Courses Or Classes?
I have taken several online courses to develop my photography skills over the years. It has taken a lot of practice and trial & error to really perfect my style and be able to produce consistent images for my clients. In addition to really knowing my camera, the most important part of my job is knowing how to safely pose and handle newborns. I feel very comfortable and confident handling tiny babies. I am honored that my clients trust me to safely and beautifully capture memories of their precious children.
What Is Your Favorite Pose Or Style?
While each session is unique as far as colors and props, I typically have a general plan for work-flow for my sessions. I want my final image galleries to be consistent and I want my clients to have a general idea of what they can expect when they hire me. I usually start with naked baby images on the beanbag, then move to wrapped shots with various baskets and boxes. I recently invested in several top-quality wool flokati rugs which add amazing texture and softness to my images. One of my favorite poses that i do in almost every session is one where the baby is wrapped snugly, with only hands and piggy-toes sticking out. All of my newborn sessions include shots with parents and siblings at no additional cost. It's very important to me that the whole family is involved!
How Long Is A Typical Photo Session?
I usually plan on three hours for a newborn session, Sometimes if there are twins or other siblings I allow for up to four hours. I keep my studio very warm so that the baby is comfortable. I provide water and snacks for mom and dad. I've even had the occasional client take a nap while I photograph their baby. I'm glad my clients feel at home in my studio.

What Do You Love Most About Being A Newborn Photographer?
I really love the actual session itself. I enjoy seeing all the poses and props come together to creae a beautiful image. The little babies are just so sweet! Having four little boys of my own, I especially love when I get to pick out pink and peach accessories for the little girls. Another part of my job that I love in interacting with clients. I enjoy getting to know my clients and building a relationship with them. It's so exciting to be able to sit down with my clients a few weeks after their photo session and present them with their final images!
What Sets You Apart From Other Photographers?
One of the services I offer to my clients that sets me apart from the other photographers in the are is my "Reveal Night". About 2-3 weeks after the newborn photography session, I will meet my client in their home to show them their final images. We will sit down together (with snacks of course) to watch a slideshow of their finished gallery (usually about 30 images). I then help my clients through the process of deciding which images they would like to include in their package, and which package would best suit their needs. I'll even bring along my tape measure and we will figure out what size wall-art would look best over the fireplace! I have a special program that I use that helps clients visualize what their own images would look like on the walls of their own house. In addition to my digital packages, I offer a variety of high-quality print products including custom designed albums, prints canvasses, and specialty products for my clients to choose from.
What Do You Want People To Know About You?
I want people to know I am a mom just like my clients, working hard to do what's best for my family. I want to be able to connect with my clients, not only by providing them with professional custon art-work, but also by establishing a friendship with them, I want to be an encouragement to parents who are learning to adjust to the "new normal" of adding a baby to their family

My own family is so important to me. I have four boys, 6 and under, who keep my pretty busy! (By the way, I could not do any of this without the support of my amazing husband!) By displaying photographs of my own children in my home and on my walls I feel it provides a sense of value to my kids and family. My boys love looking at pictures of themselves as babies and paging through photo albums. They know they are an important part of our family and that they are dearly loved. I want to convey to my clients the importance of preserving photograps and print memories to they they too can develop an atmosphere of love and value in their own homes.
Head on over to LVR Portraits  and check it out for yourself. These pictures are gorgeous. I would like to give Laurie a huge thanks for inviting me into her studio and sharing her day with me!