Everywhere I look lately there are advertisements for Blue Apron. It's in my news feed, I hear it on NPR every day, even my favorite podcast hosts are touting it. Finally I decided to take the plunge and give Blue Apron a try.
Signing up was super easy! I was given a code from a friend for a free box and I figured I had nothing to loose. You can choose to get the first shipment then cancel future shipments so that your card is not charged, or if you love it ( like I do ) you can keep them coming. I could even choose two meals from a list of four that I thought my family would like.
So here is our first experience documented in pictures!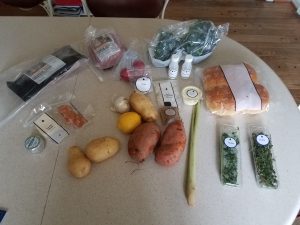 Our box was filled with organic and high quality ingredients. Everything we needed except olive oil, salt and pepper. There was enough for two full meals that fed my family of 5. The portions were a little small (It is only meant for four people) but since our children are small it was easy to divide up their portions on the smaller side. This box had lemongrass and ginger turkey burgers with sweet potato chips and porkchops with broccoli and apricot pan sauce.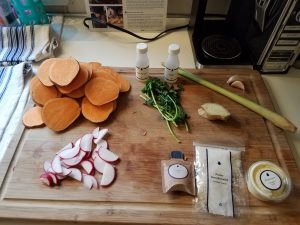 We decided to try out the lemongrass and ginger turkey burgers. All the ingredients are portioned out perfectly. Just chop and follow the instruction card provided.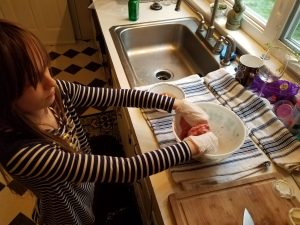 The kids were so excited to help! I have found that if I let them help cook dinner they are more inclined to try new things. It is a great experience learning how to cook with new ingredients.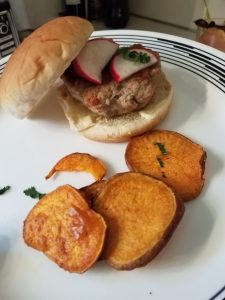 Our finished product! The turkey burger is seasoned with lemongrass and ginger, there is a garlic mayonnaise on the bun, the radishes are marinated in sesame oil and rice vinegar with cilantro and the sweet potato chips are crisped just perfectly. The kids finished every single bite which is unusual for my kiddos. I cannot wait to try the pork chops tomorrow night!
Have you tried Blue Apron? Did you enjoy it? What was your favorite recipe?